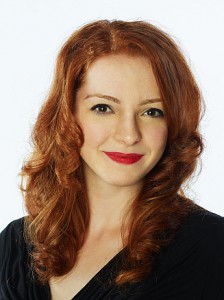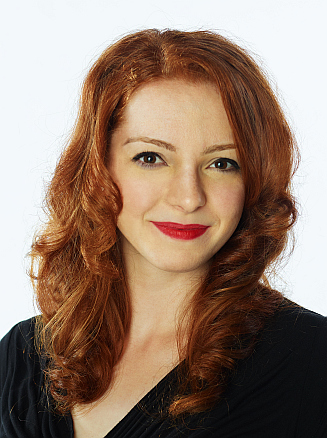 Update: On January 14, 2017, Kelly Singer once again was named the first place winner in the Metropolitan Opera National Council Auditions for the Arkansas District, repeating her accomplishment from 2016.  
All of us at Praeclara extend our congratulations to Kelly on her outstanding performance and wish her luck in the upcoming regional competition. She will next appear in "The Pirates of Penzance" for Praeclara (March 31 – April 2) at Wildwood Park for the Arts.
We interviewed Kelly about her Met audition experience and career goals just after her win last year for the article below.
---
On January 16, 2016, 22-year-old Praeclara soprano Kelly Singer won first place in the Arkansas District in the prestigious Metropolitan Opera National Council Auditions. The annual competition, established by the Metropolitan Opera in 1954 as a means to discover and promote the careers of emerging opera singers, draws top vocal talent from all over the country to compete for a chance to sing on The Met's stage in New York City.  Ms. Singer competed against 25 other vocalists, most of whom traveled to the audition from states other than Arkansas—including New York, California, Texas, Ohio, and Maryland.
Along with runners-up Eleni Franck (Cincinnati, OH) and Hunter Enoch (Takoma Park, MD), Ms. Singer will advance to the Mid-South Region Finals to be held at the Germantown Performing Arts Center in Germantown, TN on Saturday, February 6. There she will compete with at least eleven other district winners and runners-up for a chance to move on to the March semifinals in New York City.
In this interview with Praeclara communications director Karen Kuralt, Ms. Singer shares her impressions of the competition and the preparation that led up to it, along with her goals for the future.
How did your interest in opera begin?
I was 16 or 17 when I started studying voice. At the time, my teacher emphasized musical theatre more than opera because there are more opportunities to perform in musical theatre in Arkansas. Once I began working with Diane Kesling [a former Metropolitan Opera star who now teaches private voice lessons at the University of Arkansas at Little Rock] I was encouraged  to give opera a try, and the rest is history!  It may also connect with my passion for literature and history. I enjoy learning about the progression of musical genres over time, and I love to embody great characters.
What did you do to prepare for this competition?
Professor Kesling and I had been discussing it for a couple of years, with the idea that it would be something I'd do as a kind of senior-year evaluation. [Singer, a double major in English linguistics and French literature, will graduate from UALR in May 2016.] I was inspired partly by Professor Kesling's example: she also got her start at a young age, and she actually won this competition at the national level in 1981.
But we didn't start seriously preparing for it until this past August or September.  At that point, I started meeting once a week with Prof. Kesling and once a week with Dr. Kyung-Eun Na [an accomplished collaborative pianist also on the faculty at UALR] for additional coaching. Eventually I was spending close to five hours a week on preparation, including time in the practice rooms over the weekends.
We were expected to prepare five different arias for the competition. I chose five pieces in five different languages:
"Ain't It a Pretty Night," from Floyd's

Susannah

— English

"

Saper vorreste,

" from Verdi's

Un Ballo in Maschera —

Italian

"

Mein Herr Marquis,

" from

Strauss's

Die Fledermaus —

German

"Song to the Moon," from Dvořák's

Rusalka —

Czech

"

Je veux vivre,

" from Gounod's

Romeo et Juliette —

French
It was a huge amount of work, and I attribute a lot of my success to my teachers. I wouldn't have been able to do it without their encouragement and support — and also their occasional cracking the whip! Dr. Na was particularly formative in teaching me style and correcting my diction. She's so knowledgeable regarding technique and how a piece is supposed to feel. I greatly appreciate her help and the fact that she was there to support me at the competition.
Did you sing all five pieces at the audition?
No — typically the judges only ask for one piece after the singer offers a piece.  I started with "Ain't It a Pretty Night," and then they asked for "Saper vorreste." Then just I walked clean offstage because I thought I was done! They called me back out to perform Adele's aria, "Mein Herr Marquis."
How did you feel about the performance afterward?
Well, obviously I like certain pieces better than others, partly because of the characters I get to portray, and partly based on how the piece fits in my voice. So I was glad that they asked for my two favorites! Both Oscare's aria from Un Ballo in Maschera and Adele's aria from Die Fledermaus are near and dear to my heart: they are playful and comical characters.
But the judges scolded me for having walked off the stage before I was dismissed. I had no idea what the etiquette was, and after that, I thought I had no chance. I thought to myself, "Whatever "¦ better luck next time." I hadn't really entered the competition with the expectation that "I've got to win this." My attitude was that I didn't have anything to lose by trying.  I was amazed when they announced I'd won!
How will you approach the regional competition?
Based on the judges' feedback, I'll probably open with a different piece, one that better showcases my vocal strengths. I was grateful to hear that they appreciated my stage presence, which doesn't always come naturally. Mainly I'm going to focus on going into the next level with the same mentality that I used for this audition — that I have nothing to lose by trying. I'm going to try to stay as calm and collected as possible. No matter what, this is a valuable opportunity just to get myself out there and meet people in the opera community outside of Little Rock.
What are your plans for the future?
I'll continue my work with Praeclara and Second Presbyterian Church for at least the next year.  My long-term goal is a full-time singing career.  My dream role would be to perform the role of Adele in Die Fledermaus; it's just such a fun opera.  Adele is super sassy, and she's a troublemaker, too. I'd love to get to express my inner troublemaker!
---
Photo credits: Photo 2: Arkansas Festival Ballet dancer Trent Montgomery as Anghel and Praeclara soprano Kelly Singer as Wilhelmina in Praeclara's 2015 production of Dracula Unearthed; photo courtesy of Bevan Keating.
Photo 3: Praeclara vocalists Kathryne Overturf as Dido and Kelly Singer as Belinda in Praeclara's 2015 production of Dido and Aeneas; photo courtesy of Jon Marbaise.