Artistic director's notes by Bevan Keating
Producer's notes by Bruce Rentz
Written for the Carmina Burana program, April 2014
UALR Community Chorus, Second Presbyterian Church, and Arkansas Festival Ballet
Production Notes from Artistic Director Bevan Keating
In 2009, the UALR Community Chorus staged a successful presentation of Carmina Burana at Second Presbyterian Church in Little Rock. We had a choir of over 150 people, a massive orchestra, and a sold-out house. At the end of the performance, the audience literally leaped out of their seats to applaud, responding to the powerful emotions that were layered movement by movement over the last 80 minutes. It was a deeply satisfying experience. Before the concert that night, I urged the choir to savor every moment of this performance, because opportunities to sing Carmina Burana with a live orchestra don't come around often, especially for amateur and student vocalists. This might be the only such experience in their lifetimes.
How then did we come to revisit Carmina just five years later? In 2012, I conducted the UALR Concert Choir in a tour that brought us to Houston, Texas. While there, we attended a presentation of Carmina Burana staged by the Houston Symphony Orchestra. The HSO version of Carmina was somewhat similar to our 2009 concert: the work was presented as a traditional cantata with choir and soloists, all in traditional concert garb. There was relatively little movement on the stage. But there were also intriguing differences. One was that the soloists had been given latitude to embody the emotions of the narrator in each movement through facial expressions and body language. It was clear, for example, that the abbot in Ego sum abbas was singing drunkenly, and the roasting swan in Olim lacus coleuram was played for comedy to the delight of the audience. Translations of the text were projected above the stage to help audience members understand what was taking place in each movement. I left that performance inspired to develop a new approach to presenting Carmina on a much larger scale.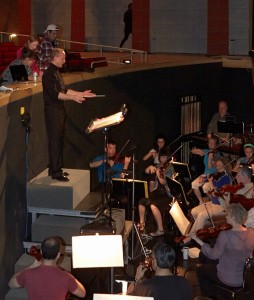 Over the next two years, I traveled the country with our producer, Bruce Rentz, taking in as many different presentations of Carmina Burana as we could. During our journeys, we saw concert-style presentations, choral presentations, and ballet presentations — but never all three in the same show. When we returned to Little Rock, I immediately set to work assembling a creative team that would be interested in staging a full ballet and cantata on the same stage. The result is what you see before you tonight: mirrored interpretations of Carmina on the stage, expressing Orff's music through simultaneous song and dance.
The only way we could make this mixed presentation work was to create an original story that would tie all 25 disparate movements of Orff's work into a coherent whole. Bruce and I coauthored a unique libretto featuring six main characters to connect all the dramatic potential that voice, orchestra, and dance have to offer. In our vision for this production, the dancers represent the spiritual realm of our characters' souls. Through the rhetoric of gesture, they express the characters' needs, wants, and desires. Our singing soloists represent the characters in the earthly realm. The inflection of their voices enable the audience to hear the emotion behind each word, even without a direct translation of the Latin and Germanic text. The chorus and the orchestra represent the community of humankind, the Greek chorus that comments on the events taking place on our stage.
Staging an original presentation of this scope and communicating our vision to an audience requires the energies of an entire creative community. I am both joyful and thankful to have had the chance to work with many diversely talented people over the course of this production. I want to express special appreciation to producer Bruce Rentz and choreographer Rebecca Stalcup, both of whom invested an enormous amount of time and work into this production. Without them, this presentation would have been impossible.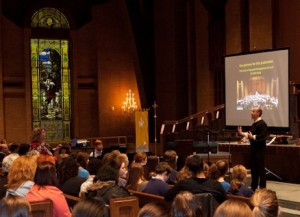 I am proud of the collaboration of the UALR choirs with the choir of Second Presbyterian Church and the choirs of Maumelle High School, Mount Saint Mary Academy, Central High School, Parkview High School, and J.A. Fair High School, which has brought the power of over 200 voices to our stage. I am grateful for the talents of our stage designers, lighting designers, graphic designers, writers, and photographers who have brought our vision for this production to life. I am also grateful for the army of volunteers who have sold tickets, ushered guests, provided costuming, and stepped up to take on the myriad of practical tasks needed for a production like this one to succeed. The past year has offered an unprecedented opportunity to create original and ambitious artistic work with an amazing group of people, and it is an experience I will treasure for years to come.
Production Notes from Producer Bruce Rentz
It is an amazing challenge to condense sixteen months of dreaming and work into words. It all began with a question from Bevan Keating on Christmas Eve: "What do you think about doing Carmina Burana?" By January 10, 2013, I had scoured the internet about all things Carmina and I was hooked: performances, both past and upcoming, YouTube offerings, historical background — so much exciting energy surrounds this composition. We planned road trips to St. Louis to see the Nashville Ballet's presentation of this work; we saw the Atlanta Ballet and Orlando Ballet productions as well.
Production planning meetings began on February 1. A flood of wonderful and wildly divergent ideas surfaced regarding venues, dates, organization strategies, and most importantly, the size and scope of the production. This must be really big. We were inspired by performances we had seen. But we also decided that many things could be done differently to be truer to Carl Orff's original intent to present Carmina Burana as a cantata with movement, dance, and magical images. From our experiences and research, three strong wishes emerged: 1) there must be dance, 2) the large chorus must be an integral part of the production and not hidden in the wings, and 3) there must be staging that linked the soloists to the action and emotion of the movements.
The number three also figures heavily into Orff's composition. Most of his songs have three verses. He chose to have three soloists. Many of the songs' opening statements are set in threes with building intensity: "O Fortuna, Velut luna, Statu variablis." But we were committed to giving several singers opportunities to sing the eight true solos, rather than just using three soloists (baritone, tenor and soprano) as is usually done. We decided instead to feature three couples, assigning a verse to each couple in the three-verse songs.
With the idea of more soloists came the opportunity to interpret these solos with featured dancers. Soon our solo characters had names and backstories. A singer would interpret the "body" of the character, and a dancer would represent the "soul and spirit" of that person.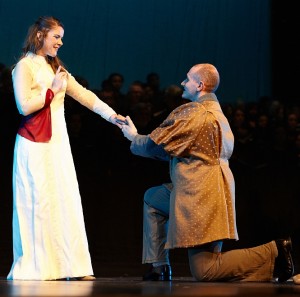 Our first couple, Thomas and Odette, represents the common peasant folk. Odette is named for her role as a vulnerable swan-like woman in Movement No. 12. Much preparation and discussion revolved around the nature of this song and how it should be interpreted. It could be comic, but it could also be tragic; it is definitely bizarre. Thomas is shy, unassuming, and tragically weak in his inability to protect his loved one from larger awful forces. He sings not about himself, but of her. As these characters were clarified, other solo movements were begging to be assigned equally interesting character development.
Sometimes the music itself compelled us to develop a plot line suitable to be used with the music. Movement No. 9 is a good example. It has four sections to it and they are quite different. Presenting this as a honeymoon sequence is unique.
Movement No. 23 is extraordinarily high and heavenly: celestial. Thus we chose Celeste to sing and dance this solo. There is something inherently comforting and redeeming about this short but pivotal solo. In our production, it is Richard, the nobleman who has fallen, who is redeemed by Celeste's forgiveness and love. Richard is a name we associate with kings and men of power. He had been brought low and is then raised up.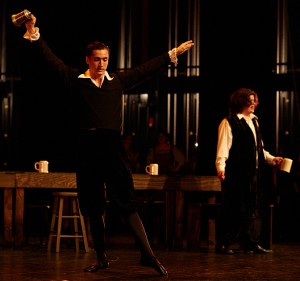 Patrick is actually our most complex character, a mix of focus and abandon. He is the embodiment of the Goliard poet: a layman abbot connected to the church, wanting to be spiritual, yet disillusioned and struggling with his own temptation. We use his tavern solo to do something unique. Patrick the singer sees and interacts with Patrick the dancer, just the way it probably happens in a drunken stupor. No other character ever actually acknowledges their double. His partner Monique is our Carmen-like seductive temptress, alluring yet unsure of her heart's true desires.
The beginning of our third act (starting at Movement No. 28) is a playground for three of our main characters, Patrick, Monique, and Richard, surrounded by the spunky villagers in the beer garden. Fortuna's prescribed destinies are played our before our eyes. The closing bookend movements of glorious No. 24 and the repeated No. 25 "O Fortuna" echo the beginning of the tale, yet herald continuing, changing fortunes for all people.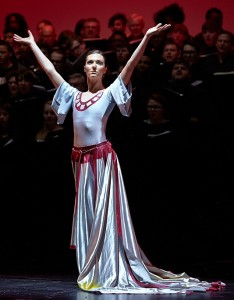 Productions that are danced vary widely in their interpretations and portrayals of Fortuna. We were particularly influenced by Nashville Ballet's concept of a very large skirt to represent Fortuna's "wheel" of destinies. It is an important image to convey Fortuna's ever-spinning continuing force in life. The spirits of Fortuna are the element closest to a traditional corps de ballet in our production are, lending a mysterious aura to the scenes in which Fortuna appears.
Because of the exquisite abilities of our lead dancers, we were able to interpret the plot line of our story with beautiful power and sensitivity. I had scouted out Arkansas Festival Ballet's production of Pinocchio in May 2013, and the rest is beautiful history. We proposed the idea of a very large collaborative work to Rebecca Stalcup, and she grinned and said, "I'm in. I love big." And so it is.
A legion of people have worked tirelessly and good-naturedly to make this production happen. Thank you to each and every one of you for your patience, endurance, and support.
---
Photo credits: Headshots, rehearsal, and performance photography by Kelly Hicks