Friday, Feb. 27 and Saturday, Feb. 28, 2015 — 7:30 p.m.
Stella Boyle Smith Concert Hall — Fine Arts Building, UALR Campus
2800 S. University Ave., Little Rock, AR
Watch Praeclara's Dido and Aeneas on YouTube — runtime approx. 1 hr. (videography courtesy of Kevin Quinn)
---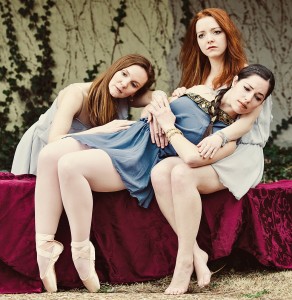 Music by Henry Purcell, libretto by Nahum Tate
The Trojan prince Aeneas, recently escaped from the fall of Troy, lands on the shore of Carthage and falls in love with its beautiful queen, Dido. Unbeknownst to the couple, a powerful sorcerer and his coven of witches conspire against their happiness. The sorcerer enchants one of his minions to appear as the god Mercury and sends this servant to tell Aeneas he must abandon Dido to fulfill his destiny in Italy. Aeneas is reluctant, but his sense of duty compels him to obey. Dido's pride will not allow her to take Aeneas back when he has second thoughts about leaving her; heartbroken, she takes her own life soon after his departure.
A beautiful but tragic tale of star-crossed lovers, Dido and Aeneas is one of the earliest English operas ever written; the first known performance was staged in 1688. In the late 20th and 21st centuries, some modern dance adaptations have been performed in Europe and Canada.  In this production, each of the main characters is represented by both a dancer and a singer, blending balletic and operatic performances on the same stage. Choreographer Rebecca Stalcup from Arkansas Festival Ballet returns to collaborate on this production, and the lead singers and dancers are joined by the UALR Concert Choir, conducted by Praeclara's artistic director, Bevan Keating.
Cast
Dido, Queen of Carthage — danced by Julia Aronson, sung by Kathryne Overturf
Aeneas, Prince of Troy — danced by Matthew Morley, sung by Timothy Tucker
Belinda, Dido's sister — danced by Paula Mallory, sung by Kelly Singer
Queen's attendants — Caroline Caldwell and Catherine Caldwell (dancers); Heather McPherson (singer)
Sorcerer — sung by Matthew Tatus
Elf in the guise of Mercury — danced by Holland Stalcup, sung by Rachel Green
Witches — Victoria Fender, Elizabeth Dawson, Laura Craig, Grace Rew, Mary Claire Fox, Ali Herring, Elizabeth Hartzell Wood, and Alexandra Marshall (dancers); Kira Keating, Shea Williamson, Satia Spencer, Shay Watson (singers)
Sailors — Todd Belin (dancer), James Wafford III (singer)
---
Photo credit: Julia Aronson, Paula Mallory, and Kelly Singer as Queen Dido and her attendants. Photography by Jamie Fender.