Tuesday, Apr. 29 and Wednesday, Apr. 30, 2014
Maumelle Performing Arts Center, 100 Victory Lane, Maumelle, AR
---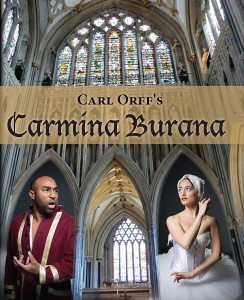 Music by Carl Orff
Original libretto by Bevan Keating and Bruce Rentz
Original choreography by Rebecca M. Stalcup
Carmina Burana was the first production on which Bevan Keating, Bruce Rentz, and Rebecca Stalcup collaborated, bringing together six vocal soloists, a company of ballet dancers, a 230-voice choir, and a live orchestra for two spectacular performances of Carl Orff's masterwork. Nearly 1200 audience members attended each performance at the Maumelle Performing Arts Center. The success of this groundbreaking production laid the foundation for a new performing arts organization — Praeclara — to be formed over the summer, launching its inaugural season with Peter Grimes in September 2014.
The story begins with
Touching on themes of love and loss, victory and despair, and suffering and ecstasy, Orff's powerful music is a perennial favorite at symphony houses and stages around the world. The opening and closing movement, Fortuna Imperatrix Mundi, permeates popular culture as background music for numerous movies, advertisements, and video games.
Keating, Rentz, and Stalcup dramatize Orff's music through the stories of three young men and three young women poised at the beginning of life's adventure.  The characters in each couple are personified by both a singer and a dancer who work together to express the story through both sound and movement. The characters come from varying stations and circumstances, but all have full and exciting futures ahead of them as the performance begins.  They soon find, however, that their lives are subject to the whims of fortune — personified in the goddess Fortuna — and that the happy endings they may have envisioned for themselves are not so easily attained.
The couples embark on journeys of hope and love, only to find themselves confronted with obstacles and temptations they had not anticipated. All the characters are tested: some do not survive, and none remain unscathed.  The production's finale offers no respite, for even when one couple believes they have conquered Fortuna's trials, the concluding number reminds the audience that the wheel continues to cycle. Fortuna's wheel comes full circle, sending the children of the next generation into the world to seek their destiny.
Cast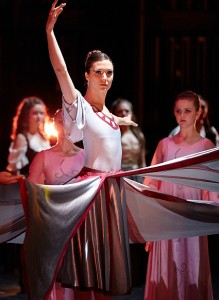 Fortuna, goddess of fortune, luck, and destiny
danced by Rachel Powell
Celeste, a young virtuous noblewoman
sung by Elizabeth Riddick, soprano; danced by Caroline Young
Richard, a wealthy and powerful feudal lord
sung by James Wafford III, baritone; danced by Anthony Bryant
Odette, a hard-working servant woman of simple beauty
sung by Shea Williamson, soprano; danced by Emily Karnes
Thomas, a working class man of rural origins
sung by Daniel Foltz-Morrison, tenor; danced by Trent Montgomery
Monique, an alluring temptress
sung by Satia Spencer, mezzo-soprano; danced by Julia Aronson
Patrick, an abbot tempted by material pleasures
sung by Luke Angelo, tenor; danced by Matthew Morley
Ensemble singers — Noah Adams, JJ Albrecht, Kamisha Banks, Leah Carroll, Jonathan Casey, Kathleeen Combs, Bill Downs, Brianna East, Ethan Ezell, Kevin Ezell, Carly Fehlberg, Lawson Glover, Meredith Howard, Grace Jensen, Stephen Kahler, Thomas Kaiser, Kira Keating, Camren Kvaternik, Micheal Lowe, Carol Majors, Daniel Manasco, Malissa Mathis, Laura McClellan, Heather McPherson, Daniel Morris, Claudia Moskova-Cremeens, Thomas Nelson, Steevan Novero, Laura Pierce, Kenneth Rich, Nina Spinner, Shay Watson, and Melissa Wilcox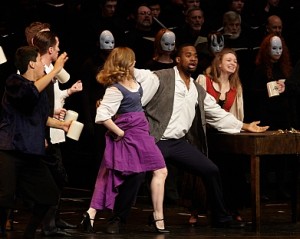 Ensemble Dancers — Mary Helene Brady, Caroline Caldwell, Catherine Caldwell, Laura Craig, Elizabeth Dawson, Catherine England, Lauren Estes, Victoria Fender, Julianne Fletcher, Mary Claire Fox, Anna Gaydos, Rebekah Gee, Ali Herring, Kyndall Jackson, Aly Jameson, Danny Jiminez, Blythe Keating, Brock Keating, Jane Landrum, Bella Marbaise, Alexandra Marshall, Grace Pitts, Addison Pledger, Grace Rew, Marilyn Ronnel, Mersey Fulper Smith, Jaclyn Speights, Avaleigh Stalcup, Farah Stalcup, Holland Stalcup, Georgia Thomas, Louisa Utley, and Elizabeth Hartzell Wood.
Featured Choirs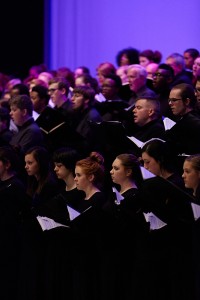 University of Arkansas at Little Rock Community Chorus
directed by Bevan Keating; assistant director Vicki Lind
Second Presbyterian Church of Little Rock Adult Choir
directed by Bevan Keating
Central High School Choir
directed by Scott Whitfield
Parkview High School Choir
directed by Carolyn Foreman
Mount St. Mary Academy Concert Belles
directed by Jennifer Boccarossa and LaSheena Gordon
Maumelle High School Choir
directed by Adam Stanley
J.A. Fair High School Choir
directed by Edmond Hampton
---
Photo credits: Carmina Burana poster photos of James Wafford III and Emily Karnes by Michael Baxley, poster design by Kathy Oliverio and Karen Kuralt; Carmina Burana performance photography by Kelly Hicks .